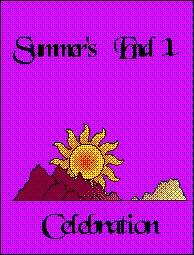 Welcome, good gentles, one and all.
This scroll contains information pertaining to the "Summer's End" event.
---
Hear ye, hear ye...
The incipient cantref of Ynys Y Gwaed invites all Lords, Ladies and Good Gentles
to attend the 1st Summer's End Celebration,
which will be held the 5th and 6th of September, 1998,
at the Strathgartney Inn on the Trans-Canada Highway in Bonshaw, Prince Edward Island.
---
This 1st Summer's End Celebration will be two days of wonderful Society for Creative Anachronism events.

Summer's End will begin on Saturday the 5th of September. Camping areas will be open to us from Friday, the 4th of September, 1998 at 5 P.M. until noon on Monday, the 7th of September, 1998.

Saturday, September 5, 1998 will be reserved for SCAdians and SCAdian events. There will be Rattan, Fencing, Archery, Equestrian (horses are available for rent, see below), Arts and Sciences, Music, Singing and Bardic along with meeting other SCA enthusiasts. The evening hours will be filled with entertainment and dancing.

Sunday, September 6, 1998 will be open to the public for SCA educational demonstrations from 11 a.m. to 5 p.m. This will provide us with the opportunity to demonstrate our skills in the Arts and Sciences to the public. Visitors will be encouraged to join in the fun where appropriate. There will be merchants who will have wares to sell.
---
Cost:

On-Board: $20/person; Off-Board: $10/person


There will be Feasts on Saturday and Sunday night for SCAdians and their invited guests.
---
Public Demo:
A small entrance fee will be charged to the public which will be given to the Strathgartney Historical Foundation.
---
More Information:
Participants are encouraged to contact us early for additional information.
Inquiries:
---
Horses will be available for rent
Please contact:
Yogi Fell
phone: (902)-964-3220.
The rental fee will be $100.00.
---
Link: The Barony of Ruantallan Web-Page.
---
This Web page expires on September 4, 1998.
HTML code by Shamus Peveril
Title Graphic by Sandra Ireland